Download Xerox WorkCentre 3655 Firmware For Windows 10/8/7 (32/64-bit). WorkCentre 3655 Black and White Multifunction Printer Firmware ConnectKey Software Upgrade Tool.
WorkCentre 3655 & 3655i software version 073.060.019.14200 for firmware fixes an issue that improves the hard drive lifespan.
Xerox WorkCentre 3655 Firmware Download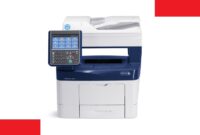 Download ConnectKey Software Upgrade Tool For Firmware
Filename: ConnectKeySoftwareUpgradeTool_v5a.zip
Version: 073.060.019.14200
Size: 2.99 MB
(DOWNLOAD)
WorkCentre 3655 & 3655i software & Firmware Fix
Filename: WorkCentre_3655-system-073.060.019.14200.zip
Version: 073.060.019.14200
Size: 528.43 MB
(DOWNLOAD)
OS: Windows 10 Windows 10 x64 Windows 8 Windows 8 x64 Windows 8.1 Windows 8.1 x64 Windows 7 Windows 7 x64
Firmware Details Xerox WorkCentre 3655
Firmware can be interpreted as a firmware or an integrated device. Or more specifically, this type of software refers to the part of the system that performs various routine processes stored in ROM (Read Only Memory).
Unlike processes or data stored in random memory or RAM (Random Access Memory), various routine processes in ROM cannot be changed (either deleted, regenerated, edited, etc.)
Arbitrarily even though the hard components are electrified. However, even so, modifications to the data and processes in this device can actually still be done, depending on the type of ROM used, such as ROM with EEPROM type or Flash ROM.
We are sorry that this post was not useful for you!
Let us improve this post!
Tell us how we can improve this post?