Epson L800 driver downloads for Windows 11/10/7 [32/64-bit]. It is important to install the appropriate driver as a first step in setting up your printer device.
Epson L800 Inkjet Photo Printer
Epson L800 is a color inkjet printer manufactured by Epson. It is designed for home and small office use and is known for its high-quality photo printing capabilities.
Print Technology This printer uses Epson Micro Piezo print head technology, which enables precise and consistent placement of ink droplets for sharp, vibrant prints.
For printing speed, the L800 offers relatively fast. This printer can print up to 37 pages per minute (ppm) for black and white documents and up to 38 ppm for color documents in draft mode. In normal mode, the print speed is around 13 ppm for black and white and 15 ppm for color.
It has a maximum print resolution of 5760 x 1440 dpi, which allows high-quality photo prints with sharp details and bright colors. Connectivity This printer only offers USB connectivity. You connect it to a computer to print. However, it doesn't have built-in Wi-Fi or network connectivity.
The drivers below are divided into two, namely printer driver and installer. Basically, the driver installer is recommended. Using the driver installer is the right alternative for printers, especially when using a new printer. Now, download the latest Epson L800 complete printer driver that supports Windows [32/64-bit].
Epson L800 Printer Driver Download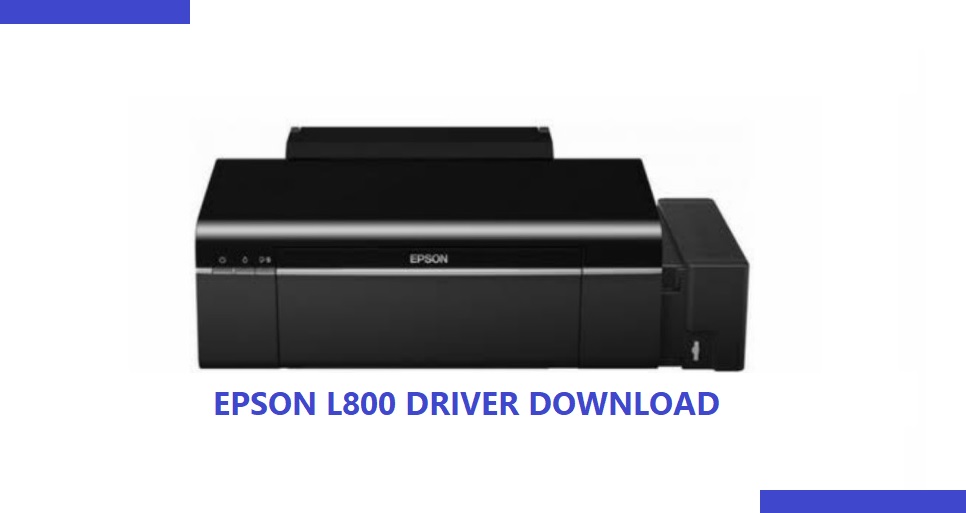 Printer drivers are software programs that allow your computer to communicate with and control certain printer models. It acts as an intermediary between the operating system and the printer hardware, allowing the computer to send print jobs and commands to the printer.
After the printer driver is installed, you can access printer settings, such as print quality, paper size, and color options from your computer. The driver also handles print job management, such as queuing print jobs, monitoring ink or toner levels, and providing error notifications when printing problems occur.
Epson L800 Printer Driver [Windows 32/64-bit]:
File name: L800_x64_674HomeExportAsia_s.exe
File size: 24 MB
[DOWNLOAD]
Compatible System: Windows 11 [32/64-bit] | Windows 10 [32/64-bit] | Windows 7 [32/64-bit]
Epson L800 Installer Download
Description: Epson L800 installer to update Epson software as well as download 3rd party applications easily. Make sure your Epson is on and connected to a computer with Internet access.
Epson L800 Software Updater Download:
File name: epson648951eu.exe
File size: 5 MB
[DOWNLOAD]
Compatible System: Windows 11 [32/64-bit] | Windows 10 [32/64-bit] | Windows 7 [32/64-bit]
We are sorry that this post was not useful for you!
Let us improve this post!
Tell us how we can improve this post?