Download the latest Resetter for Epson L4160 or Epson Adjustment Programs for free. Resetter Epson L4160 File.Rar from google drive and run it automatically by following simple steps.
EPSON Adjustment Program Full Version and safe from dangerous malware for Epson L4160. Free Download Without Password at adriviera.com! Resetter files that work 100% can be downloaded easily.
Discusses in full and in detail (complete with pictures) How to Reset the Epson L4150-L4160 Printer, both Manually and Automatically Using the Latest version 2023 Resetter Adjustment Program (AdjProg.exe) plus download links for free and without a penny.
Epson L4150 and L4160 are Ink Tank printers that can be connected/used using a Wi-Fi connection (without cables). This printer, besides being able to be used for printing, can also be used as a copier and also a scanning machine, or in other words Multifunction (All-in-One).
However, in their daily use, the L4150 and L4160 sometimes experience various problems which prevent the printer from being able to print any documents. And, when there is a problem with the printing press, it will give several error signs.
The Condition of the Epson L4160 Printer Needs to be Reset
There are several important signs that need to be recognized before the Epson L4160 printer requires reset action. In this case, the characteristics are divided into two parts. First, the printer will display a flashing power/resume and ink/paper indicator light flashing alternately or simultaneously continuously.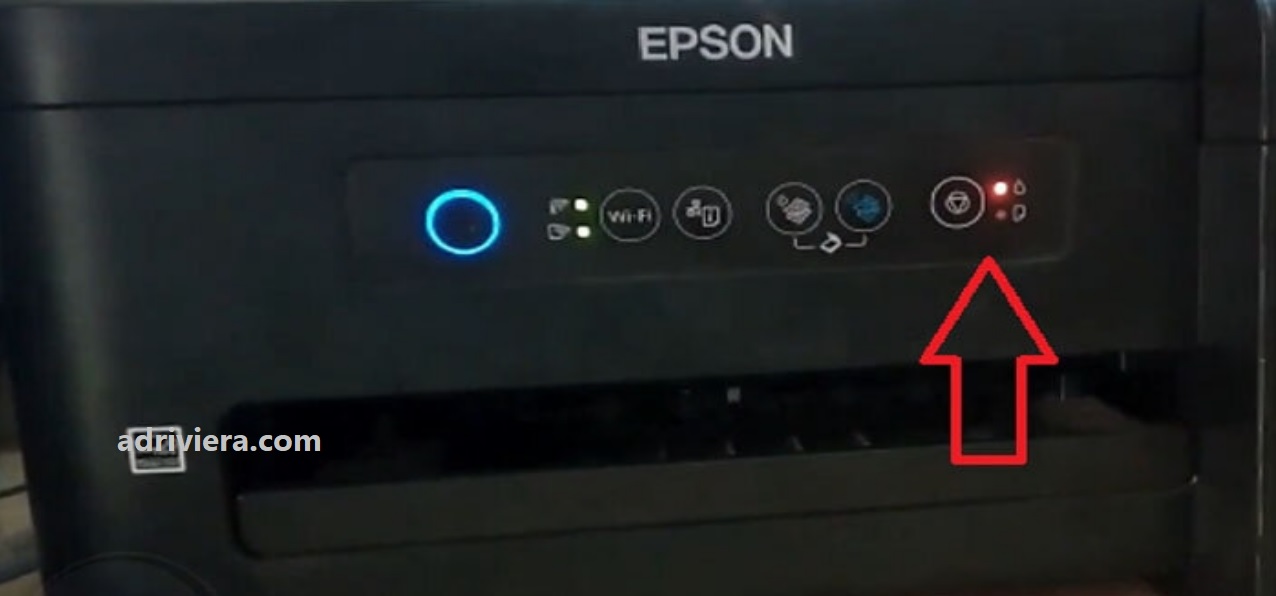 Second, a dialog box will appear on the computer monitor screen (PC/Laptop) which contains various error warnings. Among them:
it is nearly time to reset the ink levels
it is time to reset the ink levels
Ink waste is full
service required
Ink pad is at the end of its service live
For example, like the screenshot below: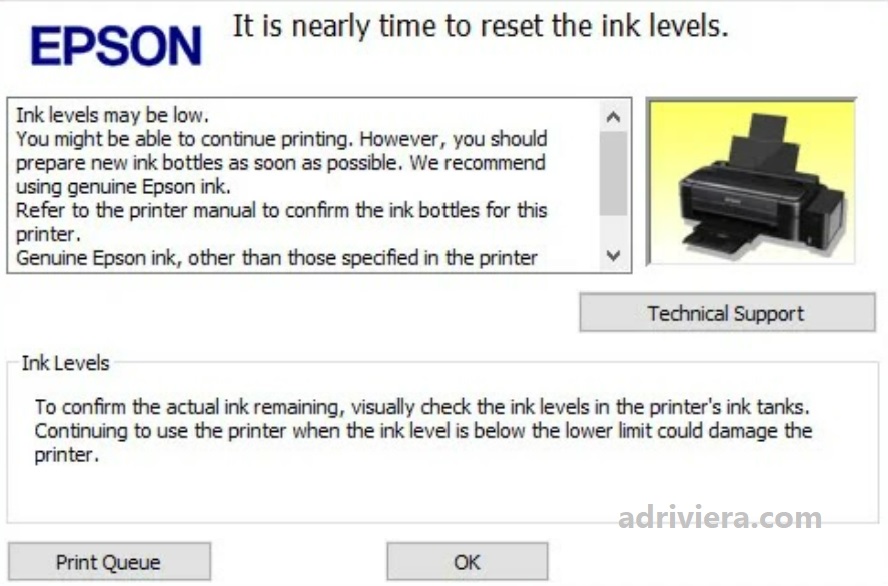 Check the Components that Cause the Epson L4160 Error
When the Epson L4160 is having problems, you should check several components that might be one of the main causes.
Cartridge – Epson L4160 cartridge is one of the most frequently problematic components. For that, try removing the cartridge first and then clean it. After that please plug it back in then turn on the printer again.
Remaining Ink Disposal Tube (Vacum) – Vacuum ink is usually also often problematic when it is full. For that, try to check this section and then suck up the remaining ink in it until it's clean.
Roller – The roller (where the paper comes out) is also sometimes a source of problems. For this reason, make sure the roller is not blocked by foreign objects, such as torn paper. If there is, clean it thoroughly.
Ink Tubes – Make sure the cartridges still have ink in them. If it runs out, please refill it again. In addition, also check the ink hose so that it doesn't get folded or jammed.
Miscellaneous – Apart from the 4 components above, you can also check several other important parts that you feel are the cause. For example, USB cables, ink foam (where the cartridge stops when not in use), and so on.
Now, after you have checked the printer components which you feel are one of the causes of the Epson L4160 error, but still cannot be used, you should try doing a total reset.
In this case, resetting the Epson L4160 is divided into two methods. The first manual reset is reset by pressing the power/resume combination button (without an application). Both reset automatically using the help of a resetter adjustment program.
One of the best ways to normalize the function of the L4160 printer is by resetting it. This reset is needed to reset all data stored by the printer chip back to normal. For example, resetting the Waste Ink Pad Counter which is full, the number of paper prints has reached the maximum limit, and so on.
Epson L4160 Manual Reset (Without Application)
Unplug or unplug the power cord for approximately 3 to 5 minutes.
Plug the power cord back in, then turn it back on.
After it lights up perfectly, then press and hold the RESUME button (ink logo) for about 5 seconds, then release.
After that, press and hold the RESUME button again for 3 seconds, then release.
If so, wait until the printer performs the reset process. Wait for it to finish.
When the reset is successful, the indicator light (resume or ink/paper) will stop flashing.
Finally, please print one or two documents to confirm whether the reset process was successful or not.
Now, after the manual reset process above is still unsuccessful, you should try the automatic reset method using the Epson L4160 Resetter Adjustment Program application below.
Reset Epson L4160 Automatically Using a Resetter
Automatic reset using the Resetter Adjustment Program (Adjprog.exe) application is an easy step to reset the Epson L4160 printer. But before that, you have to download the application first.
To get it, you can download it for free below along with a complete tutorial on how to use it, complete with pictures to make it easier for you to apply it.
Epson L4160 Resetter Free Downloads
Important Note: Before downloading the Resetter Epson L4150, and L4160 files, please turn off your computer's Antivirus first (don't worry, because this file is not a virus).
Disclaimer: All forms of download files on the Adriviera.com site are only educational materials. Risks that may be incurred, please bear it yourself (Do With Your Own Risk).
Printers: Epson L4150, L4160
File: Adjustment Program (Adjprog.exe)
Size: 5.65 MB
Windows: 7, 8, 8.1, 10, 11 (32/64bit)
(DOWNLOAD)
Password: adriviera.com
How to Use Epson L4150, L4160 AdjProg Resetter
First, run the Adjprog.exe Resetter application that you have activated (a tutorial on how to activate it is in the zip/rar folder/file).
On the front of the resetter application, please select [Select].
In the Model Name section, select the printer series you are using, then click [OK].
Select [Particular Adjustment Mode].
Select [Waste ink pad counter], then click [OK].
Check [Main pad counter] and [Platen pad counter] then click Check.
Check again [Main pad counter] and [Platen pad counter] then click the Initialize button.
When finished, a small dialog will appear on the computer screen displaying the message "Please Turn Off and Turn On your printer". Now, at this stage, please turn off and then turn on your printer again.
If the reset is successful, the Power / Resume light will turn on normally or no longer blink. Finished.
Solution If Reset Epson L4160 Fails
If you experience a failure when you finish resetting the Epson L4160, you should re-check some of the printer components which may be the source of the problem as mentioned above. Or try some of these tips.
Try unplugging the Epson L4160 for about 3 minutes before resetting it.
Clean / suck back the ink on the printer cartridge.
Make sure when reinstalling the cartridge, its position is not confused with another color cartridge.
Make sure the printer roller is completely clean from various foreign objects that prevent the paper from coming out.
Make sure the remaining ink contained in the drain tube has been cleaned thoroughly.
But if you have tried all the methods, but still fail, maybe it's time for your printer to be taken to the nearest repair shop for further handling.
Now that's a complete tutorial on how to reset the Epson L4160 printer manually and automatically using the resetter adjustment program / adjprog.exe on this occasion. Hopefully useful and thank you for visiting our site. Greetings Adriviera.com
We are sorry that this post was not useful for you!
Let us improve this post!
Tell us how we can improve this post?