Xerox AltaLink C8045/C8035/C8070 Driver For Windows 11, 10, 7 (32/64-bit). AltaLink C8000 series drivers Installer for the first step to setup your printer device.
Download the complete driver for the AltaLink C8045 using the driver installer on Windows. The AltaLink C8000 series Installer driver is an easy alternative that you can use to install various third-party drivers, utilities, and drivers suitable for printer devices.
Highlights of this printer are ConnectKey technology with mobile and cloud printing/scanning, versatile paper tray and finishing options, and partnership with McAfee for added security which is perfect for the AltaLink C8045, C8030, C8035, and C8070 Series.
The recommended drivers for AltaLink C8030/C8035/C8045/C8055/C8070 Color Multifunction Printer are: Xerox Smart Start – Driver Installer, TWAIN/WIA Scan Driver, and PCL6 Driver.
AltaLink C8000 Series Driver Installer
The Xerox Smart Start Driver Installer for AltaLink C8000 intelligently looks at your specific system configuration and installs the appropriate driver for printing and scanning to your Xerox devices.
Released: 21/03/2023
Version: 1.8.10.0
Size: 7.02MB
File name: XeroxSmartStart_1.8.10.0.exe
AltaLink C8045/C8035/C8070 Installer For Windows 11 | (DOWNLOAD)
AltaLink C8045/C8035/C8070 Installer For Windows 10 | (DOWNLOAD)
AltaLink C8045/C8035/C8070 Installer For Windows 7 | (DOWNLOAD)
AltaLink C8000 TWAIN/WIA Scan Driver Installer
Filename: XeroxScanExperience_7.5.91.0_x64.msi
Version: 7.5.91.0
Size: 14 MB
(DOWNLOAD)
Xerox AltaLink PCL6 Driver For Windows
Filename: AltaLink_C8030-C8070_5.639.3.0_PCL6_x64.zip
Version: 5.639.3.0
Size: 19 MB
(DOWNLOAD)
XEROX ALTALINK C8045 DRIVER FOR MAC OS
Download Xerox AltaLink C8045/C8030/C8035/C8070 Print Driver and Scan Driver Installer for Mac:
Filename: XeroxDrivers_5.8.0_2275.dmg
Version: 5.8.0
Size: 92 MB
(DOWNLOAD)
OS: macOS 10.12 – Sierra | macOS 10.13 – High Sierra | macOS 10.14 – Mojave | macOS 10.15 – Catalina | macOS 11 Big Sur.
Printer Descriptions: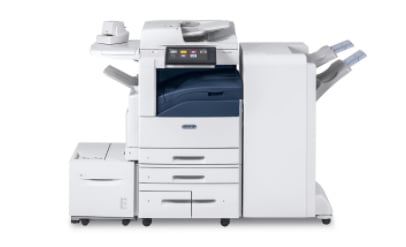 The AltaLink C8045/C8030/C8035/C8070 printer has all the complete features such as Automatic Document Feeder, Duplexing, Ethernet Connectivity, Wireless Connectivity, Mobile Printing/Scanning, and Finishers.
This printer has an office finisher available for all devices except the C8070. This office finisher includes up to a 2,000-sheet tray, a 50-sheet multiposition stapler, and a punch-hole kit.
We are sorry that this post was not useful for you!
Let us improve this post!
Tell us how we can improve this post?